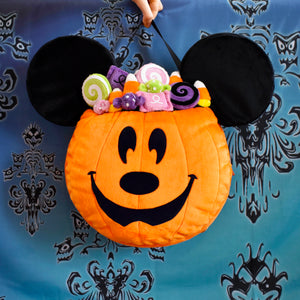 Word of Mouse
Trick or Treat Bag
Regular price
CAD$350.00
CAD$0.00
🎃 Handmade from the highest quality super-soft plush fabric
🎃 Lightweight (lighter than a leather shoulder bag)
🎃 Removable backpack straps and handle
🎃 Keeps shape even when empty
🎃 Hand sewn pieces of plush candy
🎃 SUPER LIMITED
My signature mouse ear bags take nearly two whole work days to create and are made with plenty of love. They may look simple from the outside, but there are actually over 50 individual pieces coming together to make this bag. In short, there is a whole lot of hidden magic going on to ensure that it maintains its puffy plush shape while still functioning as a bag.
They're pretty large - the main body of the bag is about 30cm in height, and closer to 40cm when the ears are included. I can only make them in very limited quantities, so they're ideal if you're looking for something unique! They made a great statement piece both at the parks and for everyday use.
Because the majority of the bag is padded to give that plush look, the amount of room for belongings is smaller than the total size of the bag. However, you can fit in park essentials, such as a pair of ears, wallet, phone and a few makeup items. The bag comes with a handle strap and backpack straps. The backpack straps are adjustable and both sets of straps are detachable.
The outside is made from minky plush fabric. The minky fabric doesn't pill/bobble or shed, and it doesn't show signs of wear easily in the way that other fabrics can. And honestly, it is just super soft and nice to touch! All details are securely attached through a mix of heat transfer and appliqué. Each piece of candy is handmade and sewn on. The bag is lined with micro-velvet, and features a split inside pocket.

I recommend spot cleaning for this item. Please avoid submerging the handles in water (water rides are fine!) 
**Please note that if you hold the bag by the handle while empty it will tilt forward slightly and not give you the best angle for photos. As soon as you put something inside it (even just your phone or the removable backpack straps) the weight will be balanced out and it will sit correctly :)**
---
More from this collection